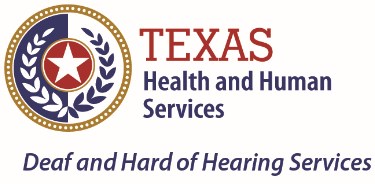 Texas Health and Human Services, Office of Deaf and Hard of Hearing Services (DHHS) presents the following training opportunity:
"Programs Offered by the HHSC Office of Deaf and Hard of Hearing Services"
Date: Tuesday, October 29th, 2019
Time: 6:00pm – 7:30pm CST
0.15 DHHS CEUs (General)
This session will cover the 12 programs that the state of Texas offers for people who are deaf or hard of hearing, their families, and service providers.  For instance, did you know that students who meet certain criteria can apply to have their tuition waived at state-supported, post-secondary schools in Texas? Are you looking for resources or need to discuss accessibility and/or technology needs? Are you a service provider seeking training and educational activities for continuing education? Come learn more in this webinar and find out how our programs can benefit you!
The presenters, Sam Harris and Rose Aird Minette, are Communication Access Specialists at DHHS.
*Register for the session, and you will receive a confirmation email with a link to access the webinar.  The pre-test is included on the registration page. If you have questions about the registration process, or about the webinar, email your questions to dhhs.webinar@hhsc.state.tx.us or call (512) 982-1709.
Real Time Captioning (CART) will be provided for the webinar.  Audio access, if needed, is via your computer speakers.  If you do not have computer speakers, call the number provided on the webinar page after you log in.
For those watching in a group from one computer, please email us for additional instructions.
CEUs: Participants may earn 0.15 DHHS General Studies CEUs (accepted by BEI) by taking a pre-test (included on registration page), logging in and attending the entire session, and taking a post-test.  If you need RID CEUs, contact an RID CEU provider in advance of the session to request PINRA approval to earn CEUs.
Registration URL: https://attendee.gotowebinar.com/register/3086183306097732355
View System Requirements
https://support.logmeininc.com/gotowebinar/system-check-attendee
Thank you!
DHHS Training and Education
Office of Deaf and Hard of Hearing Services
Rehabilitative & Social Services
Health, Developmental & Independence Services
501 W. 51st St.
P.O. Box 12904
Austin, Texas 78751
dhhs.webinar@hhsc.state.tx.us  | 512-982-1709